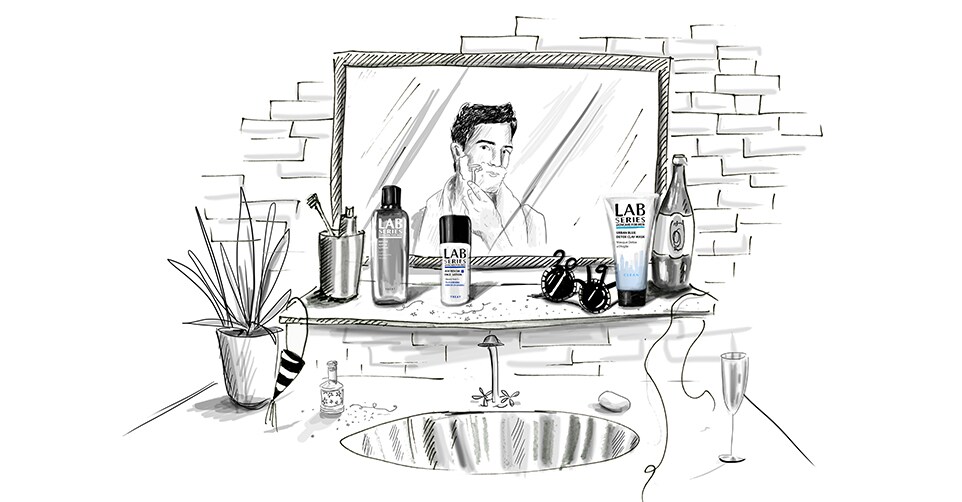 New Year Grooming Resolutions with Lee Kynaston
Perfect for getting rid of pore-clogging grease, grime and daily pollution (key reasons for skin not looking its best) it also happens to be bright blue, instantly making you look one of Doctor Who's most feared foes. Trust me, it's most fun a man can have in the bathroom. Well, okay, maybe.
3. Make multifunction your mantra.
One of the main reasons men can't be bothered with skincare is that they think it takes up too much time – a legitimate concern when you've overslept and have just six-and-a-half minutes to make yourself presentable. But instead of ruling skincare out, rule 'smart skincare' in for 2019.

That means opting for multifunctional products that save time, money and time in front of a mirror. Lab Series' PRO LS All-In-One Face treatment, for example, can be used as a skin-soothing balm as well as a moisturiser; the Oil Control Clay Cleanser + Mask is a face wash that doubles up as a clay mask; while The Grooming Oil is ideal for anyone with facial hair because it can be used as a shave oil, an extra cushion under your regular shave cream and as a beard/stubble conditioner too.
5. Cheat your way to better looks.
Looking for the ultimate shortcut to better looking skin? Then Lab Series Instant Filter Moisturizer is your man. Using special 'blurring' technology and blue optical particles it smooths the skin's overall appearance, instantly corrects redness and rebalances skin tone, acting a bit like a real-time digital filter for your face. The only thing it can't do is add flowers, fairy ears or dog whiskers but that's very much in its favour, right?

P.S. According to research January 12th is the day the people are most likely to give up on their New Year resolutions. Make a note of this date in your dairy or phone along with a reminder of the most important resolution of all – to stick to your resolutions! Here's wishing you a great (and better looking) 2019!