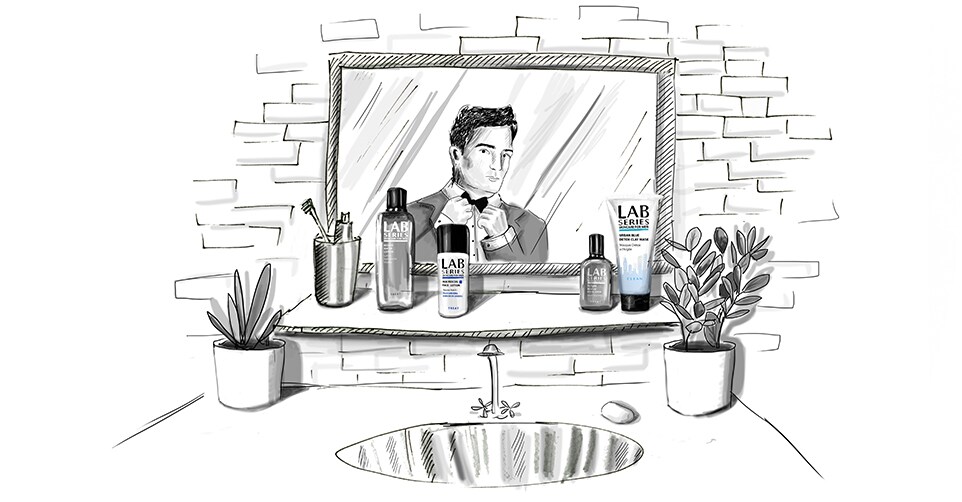 Christmas Party Prep with Rahi Chadda
Winter is undoubtedly my favourite season: fashion, parties and the coming together of family, but I cannot deny that while preparing for festivities it makes me weary. Amid the chaos, we can neglect our skin and the drop in temperatures does not help!

The introduction to LAB SERIES products has instilled me with confidence. As a skincare enthusiast, I understand how overwhelming it is when deciding which products to use. When treating skin, the priority should be to eliminate signs of fatigue and to improve the complexion from looking rough or dull. I am, therefore, going to start off by shortlisting my favourite LAB SERIES products and explain why I have made them an integral part of my skincare routine. Most importantly, these products are great because of their use all year round.

I use the Multi-Action Face Wash twice a day. Like its name suggests, its multi-faceted. The super-foaming cleanser removes dirt and impurities. Its exfoliating beads help remove dead skin cells which accumulate over the day and trap our pores. I have combination skin, so this product has been helpful for my T-zone area. Since I can manage the excessive oil production via the face wash and my skin is left feeling hydrated and nourished. I complete my cleansing routine with a few splashes of cold water to then immediately close the pores.

Face masks are available for the majority of skin types, but the Urban Blue Detox Clay Mask is my secret to surviving a night out! Sometimes, when I want my skin to feel extra clean and glow-y for a party I apply it beforehand and then resume with the serum and moisturizer. The mask has instant benefits.

Another vital part of my routine, like for most of us men, is shaving. Previously, I would overspend on products to prevent my skin from producing bumps or irritation from the shaving. Aggravated skin in front of the camera is not a good look and maintaining lots of products is time consuming. Now I use the Multi-Action Face Wash (cleanser plus exfoliator) and LAB SERIES Triple Blend Grooming Oil. I use this as a pre-shave, during shave and rub any excess oil over my beard. The razor glides with ease as the oil creates a cushion effect beneath the skin and my skin no longer dries up during the shave. The oil also adds a lightweight dewy effect on the skin.

My next steps involve the Future Rescue Repair Serum, followed by the Instant Filter Moisturiser. The latter I also carry with me throughout the day. The serum defends, detoxes, rebuilds and repairs the skin - now this is an absolute treat! It consists of algae and green tea extracts, both of which are powerful antioxidants for nourishing the skin. The moisturizer evens out skin tone, smoothens flaws and adds brightness.

Now let's discuss the virtual elephant in the room - dark eye circles. I, like many people, have tried several home remedies and different products over time, but Power V Instant Eye Lift has worked for me personally. The cream lifts and tightens and moisturises under eye skin instantly.

My advice this holiday season would be to prioritise your skin routine and to give it that TLC.